NUPLAZID (pimavanserin) tablets
NUPLAZID is an atypical antipsychotic indicated for the treatment of hallucinations and delusions associated with Parkinson's disease psychosis. Brand Name: NUPLAZID (pimavanserin) tablets, for oral use Initial U.S. Approval: 2016
Home | Argatroban Injection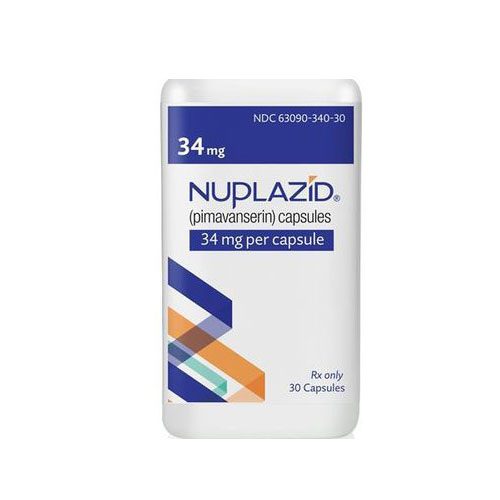 NUPLAZID (pimavanserin) tablets
Submit a request to access drug used to treat, diagnose or prevent serious or life-threatening conditions.We'll get back to you within 1 business days!
For Indian Patient inquires under NPP.
Call / WhatsApp Number
+91 9289711088 (Ms. Laxmi Singh)
For any urgent inquiries or assistance needed, please reach out to our Support Team. Rest assured, we will respond within 24 hours, from Monday to Saturday, during the hours of 9:00 A.M to 18:00 PM.
NUPLAZID (pimavanserin) tablets
Pimavanserin, sold under the brand name Nuplazid, is an atypical antipsychotic which is approved for the treatment of Parkinson's disease psychosis and is also being studied for the treatment of Alzheimer's disease psychosis, schizophrenia, agitation, and major depressive disorder.
Alleviare Life Sciences Pvt. Ltd. (India) serves as a facilitator for medical and pharmaceutical products, commencing its operations in 2005. Headquartered in Delhi, India, Alleviare operates nationwide, providing a range of comprehensive services to patients, doctors, hospitals, and government healthcare facilities.
Our specialization lies in facilitating access to medicines, leveraging our expertise in sourcing and providing documentation assistance for programs such as Named Patient Program, Managed Access Program, and Early Access Program. We take pride in ensuring smooth and efficient access to medications for those who require them.
(pimavanserin) tablets".
Confirmation of the order for NUPLAZID (pimavanserin) tablets will be subject to the submission of a valid doctor's prescription and, if applicable, an import permit.
We have delivered medicines to following cities in India –  Ahmedabad, Aizawal, Aurangabad, Barshi, Bengaluru, Bhopal, Cachar, Chennai, Dibrugarh, Hyderabad, Karungapally, Kohima, Kollam, Kolkata, Mumbai, Meghalaya, Mizoram, Sikkim, Nagpur, New Delhi, Pondichery, Pune, Punjab, Thirunananthapuram, Tripura, Wardha
ALS serves as a facilitator, supplier & exporter in India assisting patients, doctors, and hospitals in importing the prescription medicine brand NUPLAZID (pimavanserin) tablets. The import process requires a valid prescription and an Import License in the Patient's Name.
For patients from following foreign countries seeking access to NUPLAZID (pimavanserin) tablets, they can inquire and find further information by sending their inquiries to ALS.
We have delivered medicines to following countries – Argentina, Australia, Austria, Azerbaijan, Bahrain, Brazil, Bulgaria, Cambodia, Canada, Chile, Colombia, Costa Rica, Croatia, Cyprus, Denmark, Dominican Republic, Estonia, Finland, France, Georgia, Germany, Ghana, Greece, Guatemala, India, Iraq, Ireland, Israel, Italy, Jamaica, Japan, Jordan, Kenya, Kuwait, Latvia, Lebanon, Libya, Lithuania, Malawi, Mexico, Montenegro, Nepal, Netherlands, New Zealand, Nigeria, Norway, Oman, Pakistan, Paraguay, Peru, Poland, Qatar, Romania, Saudi Arabia, Serbia, Singapore, Slovenia, Spain, Sri Lanka, Sweden, Switzerland, United Arab Emirates, United Kingdom, United States, Venezuela, Zimbabwe.
Kindly reach out to us for NUPLAZID (pimavanserin) tablets price and availability confirmation.
The price of the medicines is the cost set by the manufacturer. In addition, Named Patient support fee, shipping costs and any local tax (if applicable) will apply.